Garage Door Springs
Back To Our Services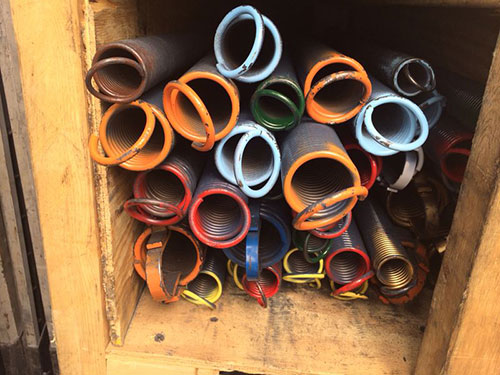 Out of the many different hardware components, the garage door springs are under the greatest tension. This is because their job is to counterbalance the weight of the door. For this, they are loaded with force which corresponds to the respective number of pounds. There are various types of overhead door springs with torsion and extension being in the main ones. Recently, companies such as Clopay have introduced their own designs. The professional service delivered by our accomplished team covers each and every one of them.
Full Commitment to Service Excellence

We provide expert torsion and extension springs repair alongside comprehensive service that delivers results of outstanding quality. The great team of experts possesses knowledge which covers components of all designs, makes and brands. Assuredly, our specialists keep up to date with the latest developments and trends in the industry, so even the most innovative models are adeptly repaired. The repair techniques implemented have proven effectiveness and use the finest tools for achieving perfect accuracy. At "Garage Door Repair Mesquite", work is completed with courtesy, dexterity, and commitment to never waste time.
You can count completely on our emergency service for issues such as broken garage door spring that will restore the safety and normal operation of the door system in no time. All of our specialists from those in customer support to those in the repair team are fully prepared to assist you in the fastest and most effective manner. The replacement parts are of the highest quality to match door systems of all makes, sizes, designs and brands. Whether you have a Martin door with an advanced torsion coil trampoline spring or an Amarr unit with a standard counterbalancing component, we apply a perfectly matching part to replace the broken one.
In addition to providing garage door repair, admirable maintenance, replacement, and installation services is delivered to customers. Our unmatched maintenance service is designed to keep the entire system and all of its components in top condition and takes exceptional care of the most complexly designed galvanized garage door torsion springs.
Call us to get answers to any related question you have!